Let us Flower your Place..
The importance of biodiversity
There is increasing concern about the rapid disappearance of many endangered species of plants and animals due to human activity. Through various land, air and ocean-borne organisms biodiversity plays a crucial role in the regulation of water and air quality and helps prevent the spread of diseases through the natural world. By promoting biodiversity we can assist in maintaining this healthy balance.
Currently, the loss of biodiversity and natural equilibrium in the Netherlands can already be seen in the invasive diseases present in parks and gardens. In the Netherlands there has been a gradual reduction in the variety of fauna and flora. This has been a result not only of urban creep, but also the spread of large scale intensive monocultures.
Fortunately there are many solutions for stimulating the variety of animals and plants in our environment, beginning with gardens and parks. In public areas, using a variety of plants followed by careful management can promote biodiversity in even the densest urban areas. An extra advantage of this method is the creation of an attractive space for the public that will add to the quality of life.
The increase in biodiversity through giving priority to planting a variety of plants will influence the following: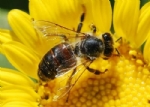 Bees, butterflies and other pollinating insects have an essential role to play in nature and agriculture in the production of seeds, fruits and nuts. They are extremely important for maintaining biodiversity.  'Flower Your Place' has carefully selected combinations of  bulbs that are advantageous for pollinaters.
Once the bulbs have been planted, the flowers return each year. These meticulously chosen flowering bulbs in combination with wild flowers ensure that the pollinating insects are immediately provided with nutrients after their winter dormancy.
Birds and mammals
Pollinators provide fruits and seeds which birds are in turn able to eat. The presence of insects  attracts birds. By providing nesting opportunities for birds and shelter for mammals in public parks and gardens, these animals are also able to make their contribution to biodiversity.